Posts Tagged 'bands'
Thursday, September 27th, 2012
I have had the honour of creating pendants for this amazing band to sell during the first leg of their US tour this October! The guys have been ultra sweet (but when are they not!) and are advertising my pendants all over the place. I feel so loved. <3
The Foreign Resort's new album Scattered & Buried is out now! Give it a listen – you will not be disappointed.
Tags:
bands
,
merch
,
pendants
Posted in
Crafty
,
Shameless Plugs
|
Comments Off

on The Foreign Resort official merch!
Monday, September 3rd, 2012
Many people have thought that these "tortoiseshell" pick guards must take hours to paint. In fact, they are quite simple compared to a lot of other painting I do on thise micro guitars. Outlining and then staying within those lines on the pick guard is the hardest part.
A red base layer, then loosely mix the same red and some black, and dab it on unevenly with a tiny brush – it gets the look done quite well! Certainly more simple than the sunburst design on the body…
(this particular pendant is a guitar belonging to Henrik from The Foreign Resort!)
Tags:
bands
,
pendants
Posted in
Art
,
Crafty
,
Shameless Plugs
|
Comments Off

on Tortoiseshell
Saturday, June 16th, 2012
Mikkel Borbjerg Jakobsen, frontman of The Foreign Resort, has been a complete sweetheart lately. He's showing off his Telecaster pendant for all the world to see, on Twitter, Instagram and Facebook. I feel so loved.

"@frenziedsilence made me this miniature version of my Telecaster and mailed it from Portland, OR to Denmark. Thank you so much, Kathryn!"
If you have never heard this band, please do give them a listen. They are amazingly fun. Visit their Bandcamp page for free downloads. <3
In other news, I have added two new pendants to the fray.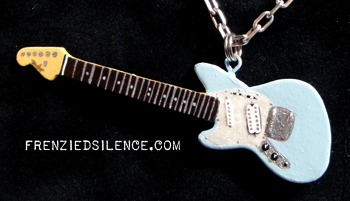 Kurt Cobain's JagStang.

311 – Pnut's bird's eye maple bass.
Tags:
bands
,
love
,
pendants
Posted in
Crafty
,
Shameless Plugs
|
Comments Off

on Feel the Love