Posts Tagged 'The Twilight Sad'
Monday, June 18th, 2018
I still have several of these tiny Jazzmasters left!
They are numbered, limited edition, and approved by The Twilight Sad.
These miniatures are handmade: cut from the original block of wood from which Andy's real guitar was cut, "painted with fire" just like the real guitar, and finished with spar varnish for extra protection. I can send out just a mini guitar to set on a shelf, or I can attach a ring so it can be turned into a pendant/rearview mirror decoration/etc.
$20 from each guitar sale will go to MIND UK, in honour of Scott Hutchison.
Postage included, these are $40ea within the US, or $46 worldwide.
Tags:
Charity
,
mental health
,
Scott Hutchison
,
The Twilight Sad
,
tiny guitar
Posted in
Charity
,
Crafty
,
Music
|
Comments Off

on Twilight Sad / Copeland Guitars Miniature!
Tuesday, March 24th, 2015
A wearable version of the beautiful white Jaguar owned by Andy MacFarlane of The Twilight Sad.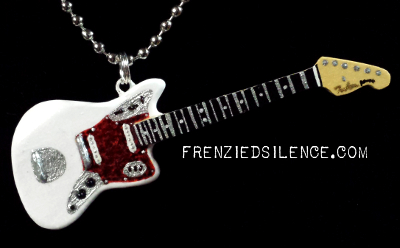 These are US$30 each, and $10 from every sale of this pendant will go to Yorkhill Children's Hospital in Glasgow.
These pendants are MADE TO ORDER – I do not keep them in stock, so please allow up to two weeks for me to create and ship out your tiny guitar. :)
Made from polymer clay with birch veneer on the neck for strength. Varnished in water-resistant polyurethane. Each comes with an 18″ nickel-plated ball chain (not pictured).
These are available from my Etsy shop, but if you would like to contact me about them, you can also do so here. X
Tags:
Charity
,
guitar
,
pendant
,
The Twilight Sad
Posted in
Charity
,
Crafty
,
Music
|
Comments Off

on The Twilight Sad guitar!
Monday, November 3rd, 2014
The Twilight Sad played two gigs in Portland yesterday, and I had the pleasure of chatting with the guys for a bit after each. I had drawn a portrait of James, and gave it to him after the first show, a small acoustic session at a local record shop. James is absolutely gracious and kind. And contrary to what he said, he is definitely NOT "an ugly bastard".
Tags:
Art
,
portrait
,
The Twilight Sad
Posted in
Art
,
Music
|
Comments Off

on James Alexander Graham: Not An Ugly Bastard.
Saturday, June 15th, 2013
I have had Andy MacFarlane's beautiful white Jaguar on my business cards for a year now, and The Twilight Sad knew it, but I wasn't able to send them that pendant until last week.
It arrived with the guys yesterday, and they very kindly posted a picture of it. :D
Really cool tiny Jaguar pendant based on Andy's guitar made by @frenziedsilence Thank You Kathryn!!! pic.twitter.com/Hg82JBBQ3v
Tags:
guitar
,
pendant
,
The Twilight Sad
Posted in
Art
,
Crafty
,
Music
,
Shameless Plugs
|
Comments Off

on The Twilight Sad