Archive for the 'Crafty' Category
Monday, June 18th, 2018
I still have several of these tiny Jazzmasters left!
They are numbered, limited edition, and approved by The Twilight Sad.
These miniatures are handmade: cut from the original block of wood from which Andy's real guitar was cut, "painted with fire" just like the real guitar, and finished with spar varnish for extra protection. I can send out just a mini guitar to set on a shelf, or I can attach a ring so it can be turned into a pendant/rearview mirror decoration/etc.
$20 from each guitar sale will go to MIND UK, in honour of Scott Hutchison.
Postage included, these are $40ea within the US, or $46 worldwide.
Tags:
Charity
,
mental health
,
Scott Hutchison
,
The Twilight Sad
,
tiny guitar
Posted in
Charity
,
Crafty
,
Music
|
Comments Off

on Twilight Sad / Copeland Guitars Miniature!
Tuesday, March 24th, 2015
A wearable version of the beautiful white Jaguar owned by Andy MacFarlane of The Twilight Sad.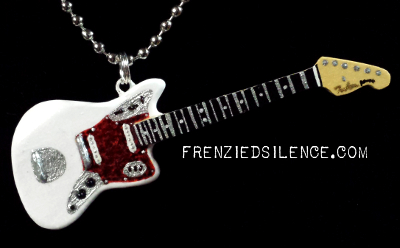 These are US$30 each, and $10 from every sale of this pendant will go to Yorkhill Children's Hospital in Glasgow.
These pendants are MADE TO ORDER – I do not keep them in stock, so please allow up to two weeks for me to create and ship out your tiny guitar. :)
Made from polymer clay with birch veneer on the neck for strength. Varnished in water-resistant polyurethane. Each comes with an 18″ nickel-plated ball chain (not pictured).
These are available from my Etsy shop, but if you would like to contact me about them, you can also do so here. X
Tags:
Charity
,
guitar
,
pendant
,
The Twilight Sad
Posted in
Charity
,
Crafty
,
Music
|
Comments Off

on The Twilight Sad guitar!
Friday, March 6th, 2015
This is my tiny version of Mike Vennart's very unique Stratocaster.
I am very pleased to announce that, with Mike's permission, I am now selling these handmade miniatures as necklaces (or wall hangings, or whatever)…. and a large portion of every sale will go to help Mike's hero, Tim Smith, of Cardiacs. Tim was hit hard by major medical problems in the past few years, and we are very keen to help him with the huge costs of care.
If anyone is interested in having a wee bit of artwork to show their love for the inimitable Vennart, and helping out a friend at the same time, each of these is US$40 (due to the very very intricate paint job that I do by hand each time), and $15 per sale will go on to help Tim Smith.
These are available from my Etsy shop. If you wish to ask any questions, feel free to contact me on Etsy, or from my Contact page here.
Also, please support Mike directly by ordering his NEW ALBUM or a shirt or three!!! XX
Tags:
Charity
,
guitar
,
Mike Vennart
,
pendant
Posted in
Charity
,
Crafty
,
Music
|
1 Comment »
Wednesday, November 19th, 2014
I had a few requests to make Matt Bellamy's WarChild charity auction guitar into a necklace. And I posted it on Twitter and things kind of exploded. heh!
I have added this pendant to my Etsy shop, and I will make them as they are ordered – please allow up to three weeks for me to create the tiny guitar and mail it out. This one is quite difficult to paint.
Each pendant is $40US – with half going to WarChild in honour of Matt's contribution, and the other half covering my own costs and shipping.
Please note that this has nothing to do with Manson, Muse or Matt Bellamy himself – he's probably seen it by now thanks to the internets, but no one is endorsing this. I am merely making a good thing out of my crafting abilities. :)
Tags:
Charity
,
guitar
,
Matt Bellamy
,
muse
,
pendant
Posted in
Charity
,
Crafty
|
Comments Off

on SHEEP!
Sunday, June 29th, 2014
I have had the wonderful privilege of making miniature guitars for two of my favourite musicians, Mike Vennart [Oceansize, British Theatre, Biffy Clyro] and JP Reid [Sucioperro, Medals, Marmaduke Duke].
Mike's "old piece of shit" Stratocaster:

JP's three main guitars:

Love.
Tags:
guitars
,
Music
Posted in
Art
,
Crafty
,
Music
|
Comments Off

on Blessed.
Wednesday, January 8th, 2014
This is by far the silliest guitar I have yet miniaturized. It was a Christmas gift for my mother.
Billy Gibbons of ZZ Top's fuzzy Explorer. I had such fun making it :D
This is ornament size, about 4 inches long.
Tags:
guitar
,
pendant
Posted in
Crafty
|
Comments Off

on Fuzz
Saturday, November 2nd, 2013
Today I had the immense pleasure of meeting three of the four members of Cut//Copy. They are SO sweet and kind. I gave a little box of pendants to Dan before the show, and talked to Ben and Tim afterward.
Thanks for an amazing evening, boys! :D
Tags:
Concert
,
Cut Copy
,
pendants
Posted in
Crafty
,
Personal
|
Comments Off

on Cut Copy!