The Twilight Sad guitar!
A wearable version of the beautiful white Jaguar owned by Andy MacFarlane of The Twilight Sad.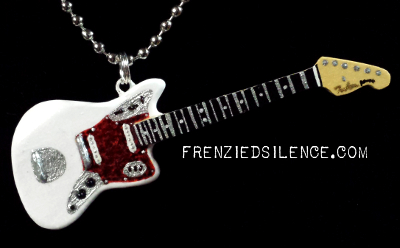 These are US$30 each, and $10 from every sale of this pendant will go to Yorkhill Children's Hospital in Glasgow.
These pendants are MADE TO ORDER – I do not keep them in stock, so please allow up to two weeks for me to create and ship out your tiny guitar. :)
Made from polymer clay with birch veneer on the neck for strength. Varnished in water-resistant polyurethane. Each comes with an 18″ nickel-plated ball chain (not pictured).
These are available from my Etsy shop, but if you would like to contact me about them, you can also do so here. X
Posted 24 Mar 2015. Tagged Charity | guitar | pendant | The Twilight Sad.
Both comments and pings are currently closed.