Mikkel Borbjerg Jakobsen, frontman of The Foreign Resort, has been a complete sweetheart lately. He's showing off his Telecaster pendant for all the world to see, on Twitter, Instagram and Facebook. I feel so loved.

"@frenziedsilence made me this miniature version of my Telecaster and mailed it from Portland, OR to Denmark. Thank you so much, Kathryn!"
If you have never heard this band, please do give them a listen. They are amazingly fun. Visit their Bandcamp page for free downloads. <3
In other news, I have added two new pendants to the fray.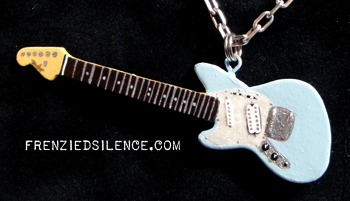 Kurt Cobain's JagStang.

311 – Pnut's bird's eye maple bass.